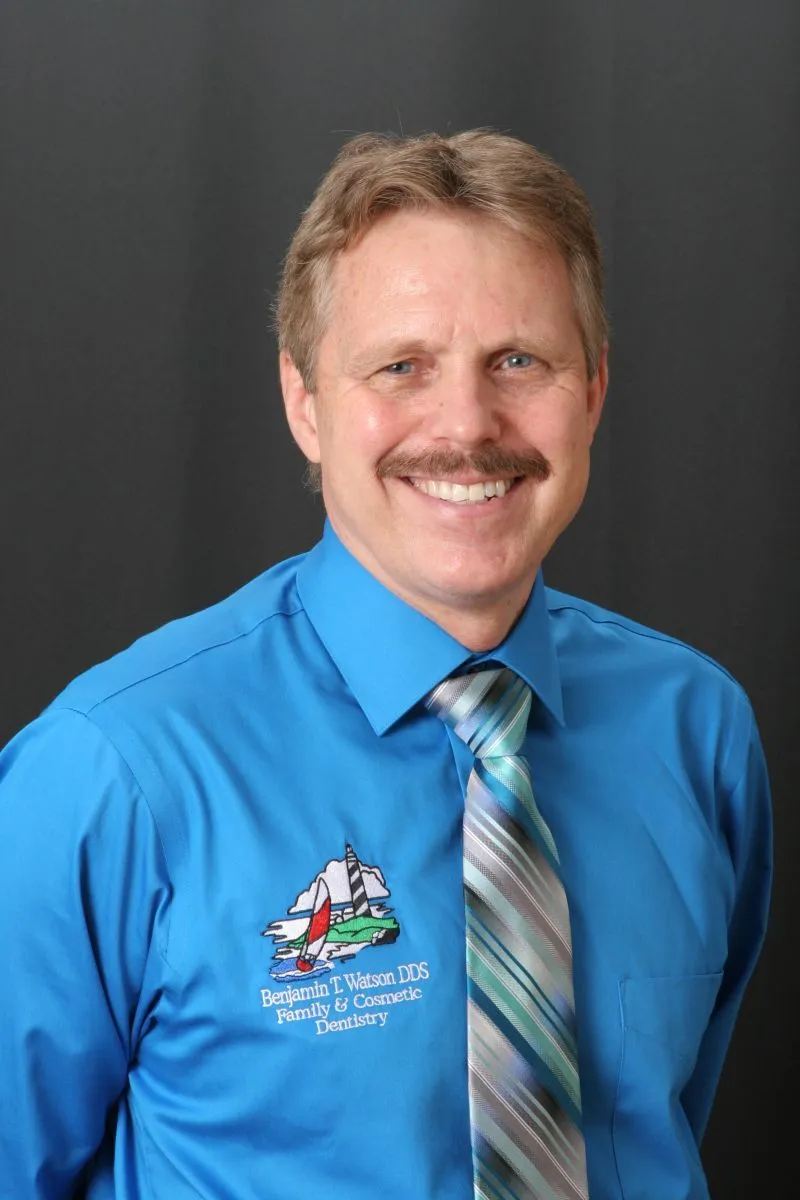 BENJAMIN T. WATSON, DDS, MAGD
Dr. Watson is a family dentist in Newport News. He's a native of the Peninsula, having lived in Hampton VA until the age of 7 at which time he moved to Newport News. He attended Ferguson High School (now a part of Christopher Newport University.) After high school, Dr. Watson attended undergraduate at the University of Richmond where he received a BS degree in Biology. From there Dr. Watson received his dental degree from the Medical College of Virginia. He has been practicing General Dentistry since 1983. Dr. Watson has been married to his wife Helene since 1983 and they have two sons, Jeff and Patrick.
Dr. Watson is a firm believer in continued education. He continues to take many hours of training each year to keep abreast of new techniques in the field of dentistry. He is a member of the Peninsula Dental Society, Virginia Dental Association, the American Dental Association, the Dental Organization of Conscious Sedation, and the Academy of General Dentistry. Dr. Watson has received the two distinguished continuing educational awards given by the Academy of General Dentistry; the Fellowship Award given to the individual who takes 500 hours of continuing education and passes an all-day comprehensive exam and the prestigious Mastership Award for taking an additional 600 hours of continuing education which have to be in certain areas of dentistry. Four hundred of those hours have to be hands on experience. This is a tough award to receive. In addition to dental organizations, Dr. Watson is certified both in CPR and ACLS (Advanced Cardiac Life Support).
Dr. Watson is committed to giving patients the highest quality dental care in his state of the art dental clinic in Newport News. He is a believer in patient education. He wants the patient to understand their treatment and why it is needed. He encourages their questions and input. He will review all options as well as advantages and disadvantages of each option prior to initiating treatment. Dr. Watson believes successful treatment begins with trust in your dentist and being informed on all aspects of the treatment. Come by and let Dr. Watson discuss your dental needs.
PATRICK A. WATSON, DMD, MA
Dr. Patrick Watson is a general dentist in Newport News. He grew up in Yorktown, and now currently lives in Williamsburg, Virginia. He attended Tabb High School and then went on to attend the University of Virginia for his undergraduate education. During his time at UVA, he got involved with various aspects of research and earned a Bachelor of Arts degree in Biology. Upon graduating, Dr. Watson was accepted into a master's program at the Midwestern University in Glendale, Arizona and earned a Master of Arts in Biomedical Sciences. After the master's program, he then went on to attend Midwestern University's College of Dental Medicine in Illinois. He graduated with his dental degree in 2021.
Dr. Patrick Watson takes pride in his work and making sure his patients receive the highest quality of dental care. He sincerely believes that the patient should be at the center of their treatment decision process and understand why certain treatments are best for them. For this reason, Midwestern University hand-picked him for the Excellence in Patient Care Award during his time there. He looks forward to maintaining the highest standard of care and growing even more as a dentist through continuing education.
Patients will always come first and one can ensure they will be treated respectfully and mindfully each time they are in his dental chair. Feel free to call to set up your next dental appointment and let Dr. Patrick Watson give you a reason to smile.