Posts for: February, 2018
By Benjamin T. Watson, DDS, MAGD
February 17, 2018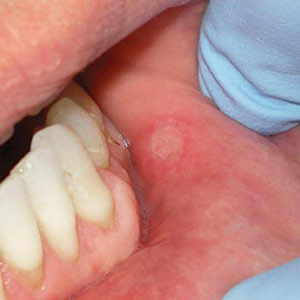 Sometimes it's the little things that can be most annoying. Those occasional small sores that pop up on the inside of your mouth are a case in point. Although in most instances they won't last long and aren't anything to be alarmed about, they can still cause you some discomfort.
These small sores are called aphthous ulcers or more commonly "canker sores." They are breaks in the skin or mucosa, the inner lining of the mouth, and occur most often on the inside cheeks, lips, tongue and occasionally on the soft palate at the back of the throat. They usually appear round with a yellow-gray center and an intensely red outer ring or "halo."
Canker sores often appear during periods of high stress or because of minor trauma, and usually last for a week or two. They often have a tingling pain that can be aggravated when you eat and drink acidic or spicy foods and beverages. About 20 to 25% of people have a form known as recurrent aphthous stomatitis (mouth inflammation) that occurs regularly with multiple sores and heightened pain.
It's possible to manage the discomfort of minor, occasional bouts with a number of over-the-counter products that cover the sore to protect it and boost healing, with some providing a numbing agent for temporary pain relief. For more serious outbreaks we can also prescribe topical steroids in gels or rinses, injections or other medications.
While canker sores don't represent a health danger, there are instances where you should take outbreaks more seriously: if a sore hasn't healed after two weeks; if you've noticed an increase in pain, frequency or duration of outbreaks; or if you're never without a sore. In these cases we may need to biopsy some of the tissue (and possibly run some blood tests) to ensure they're not pre-cancerous or cancerous.
In any event, we can work with you to reduce your symptoms and help the sores heal quickly. This particular "little thing" in life doesn't have to stress you out.
If you would like more information on mouth sores, please contact us or schedule an appointment for a consultation. You can also learn more about this topic by reading the Dear Doctor magazine article "Mouth Sores: Understanding and treating canker sores."
By Benjamin T. Watson, DDS, MAGD
February 02, 2018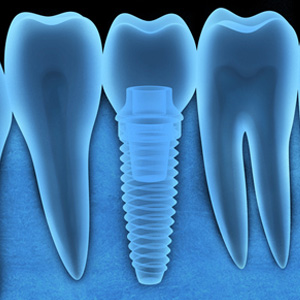 Dental implants are today's closest restorative facsimile to natural teeth. And they're versatile: not only can they replace single teeth but they can also support bridges or dentures.
But since one of their crucial components is made of metal, are you out of luck obtaining this state-of-the-art dental restoration if you have a metal allergy?
The answer is: probably not—it's rare for implants to cause an allergic reaction. Still, metal allergies can be a potential problem within your mouth as with other areas of health.
An allergy originates from the body's necessary response to potentially harmful microorganisms or substances. Sometimes, however, this response becomes chronic and exaggerated, creating an allergy. People can have allergies to nearly anything with responses ranging from a minor rash to a potentially life-threatening multi-organ system shutdown (anaphylactic shock).
A small number of people have allergies to particular metals. One of the most common is nickel, which affects an estimated 17% of women and 3% of men; cobalt and chromium are also known to cause allergies. Consumer exposure, particularly metal contact with the skin through jewelry or clothing, is the most prevalent, but not the most concerning. That's reserved for metal allergies related to medical devices like coronary stents or hip and knee prostheses. And in dentistry, there are rare occasions of inflammation or rashes from metal amalgam fillings.
Which brings us to dental implants: the main metal post that's inserted into the jawbone is usually made of titanium. It's the metal of choice for two reasons: it's bio-compatible, meaning the body normally accepts its presence; and it's osteophilic, which means bone cells readily grow and adhere to it, a major reason for implant durability.
While it's possible for someone to have an allergy and subsequent reaction to implants with titanium, the occurrences appear to be extremely low. In one study of 1,500 patients, titanium allergies were estimated to be a factor in implant failures in less than 1% of those studied.
Even so, if you have known metal allergies you should make sure your dentist knows. Being aware of all the facts will help them recommend the best tooth replacement choice for you—and hopefully it will be dental implants.
If you would like more information on dental implant restorations, please contact us or schedule an appointment for a consultation. You can also learn more about this topic by reading the Dear Doctor article "Metal Allergies to Dental Implants."