Posts for: December, 2017
By Benjamin T. Watson, DDS, MAGD
December 19, 2017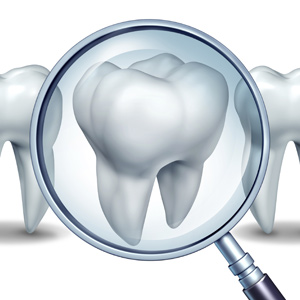 Enamel — that tough, outermost tooth layer — protects your teeth from all sorts of hazards, from bacterial attack to temperature extremes. But although the hardest substance in the human body, enamel has a mortal enemy — acid. High acid levels can cause the minerals in enamel to dissolve, a process called de-mineralization. And although saliva can neutralize these levels in approximately 45-60 minutes and restore some of the enamel's lost minerals, a constant acidic environment can overwhelm this natural mechanism.
That's why you should be careful with the amount and frequency of acidic foods and drinks like citrus fruits or coffee. You should be especially concerned about your intake of sodas, energy drinks or sports drinks. The latter in particular are designed to replace fluids and nutrients during intense exercise or sports events, but are often consumed as a regular beverage. And all these drinks mentioned are often sipped on throughout the day, resulting in a constant wash of acid in your mouth that can interrupt the protective response of saliva.
There's one other source for high mouth acidity that comes not from outside the body but from within. GERD — Gastro Esophageal Reflux Disease — is a condition in which digestive acid refluxes (flows back) into the esophagus. While chronic acid reflux can damage the lining of the esophagus and lead to ulcers or even cancer, it may also pose a danger to teeth if the acid regularly rises into the mouth. Individuals encountering this will know it by the awful, acrid taste of vomit in their mouth.
To reduce the chances of high mouth acid due to food intake, limit the consumption of acidic foods and beverages to meal times and sports drink consumption to strenuous exercise or sporting events. Better yet, consider the greatest hydrator of all, water — with a neutral pH of 7.
If you're experiencing chronic heartburn or other GERD symptoms, make an appointment to see your primary care doctor or a gastroenterologist as soon as possible. Many treatments are effective and will not only improve your general health but may also help preserve your tooth enamel.
If you would like more information on the effect of acid in the mouth and how to reduce it, please contact us or schedule an appointment for a consultation. You can also learn more about this topic by reading the Dear Doctor magazine articles "Dentistry & Oral Health for Children" and "GERD — Gastro Esophageal Reflux Disease."
By Benjamin T. Watson, DDS, MAGD
December 04, 2017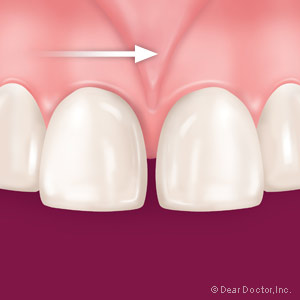 The various structures in your mouth — your teeth and gums, of course, as well as periodontal tissues that hold teeth in place within the jaw — all function together to create your smile. This includes muscles like the frenum, a fold of muscle tissue that connects the gums to the upper lip, which helps pull the lip upward when you smile.
Unfortunately, an overly large frenum could contribute to an unattractive space between your two upper front teeth. The problem occurs when the frenum grows beyond its normal range and runs between the front teeth to connect with the gums behind them at the forefront of the roof of your mouth. The resulting space that may develop can be closed with orthodontics, but unless the excess frenum tissue is addressed the space may eventually reopen.
The frenum is just one cause among many for a noticeably wide space, including bite problems (malocclusions), finger-sucking habits or missing teeth. We would, therefore, need to examine your mouth to determine the exact cause before beginning any treatment. If indeed the frenum is the source of the problem, it will be necessary to ultimately remove the excess portion through a procedure known as a frenectomy.
A frenectomy is a minor surgical procedure performed by a periodontist, oral surgeon or a general dentist with surgical training. After numbing the area with local anesthesia, the tissue behind the teeth is dissected or reduced in size with a small scalpel or a surgical laser. The wound is then closed with a few stitches; any post-surgical discomfort is usually minimal and managed with non-steroidal anti-inflammatory pain medication. The wound will completely heal within a few weeks.
Most frenectomies are performed after orthodontics to close the space. Removing it prior to tooth movement may result in scar tissue that prevents the space from closing. It's also easier for the surgeon to gauge how much tissue to remove after space closure to avoid removing too much, which can leave a "black" triangular hole where gum tissue should normally be.
Treating an abnormally large frenum isn't difficult, but it needs to be coordinated with orthodontic treatment for the best outcome. The end result is a smile that's both healthy and attractive.
If you would like more information on teeth spacing problems, please contact us or schedule an appointment for a consultation. You can also learn more about this topic by reading the Dear Doctor magazine article "Space between Front Teeth."