Posts for tag: pediatric dentistry
By Benjamin T. Watson, DDS, MAGD
April 01, 2020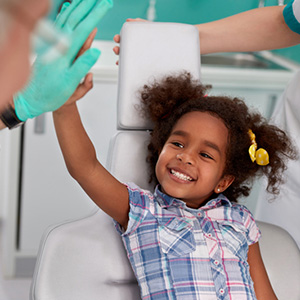 As a parent you want your child to have the best possible start in life. One of the greatest gifts you can provide them is a positive experience in dental care—especially visiting the dentist.
Unfortunately, not all children are so lucky. Visiting the dentist for them is foreign and forbidding; it leaves such a negative impression they may avoid the dentist later in life even when faced with acute problems.
It doesn't have to be like that. Here are 3 ways you can help your child have a great experience at the dentist.
Start dental visits early. The best time to begin dental visits is before your child's first birthday as their teeth begin to erupt. Dental diseases like tooth decay can begin as early as two months so it's vital to detect any problems as soon as possible. Establishing an early relationship with your child's dentist benefits you too with helpful tips and advice from them on dental care at home. And, children visiting the dentist early are more likely to become accustomed to it as a routine part of life, and more likely to continue the habit on their own.
Find the right dentist. The right dental practice can make all the difference in the world for your child's comfort level. Parents often choose a pediatric dentist who specializes not only in dental care for children and adolescents but in how to engage with them and put them at ease. The key, though, is to find a dentist and staff who work well with children and understand how to make them feel at home in their office.
Display a positive attitude. You've probably already noticed how your child picks up on your feelings in different situations—which often affect how they feel and act too. So be sure when you visit the dentist with them you have a positive, proactive attitude, ready to partner with their provider in treatment and prevention measures. And above all display a calm and relaxed manner: your child will be more apt to follow your cue and relax too.
If you would like more information on providing great dental care for your child, please contact us or schedule an appointment for a consultation. You can also learn more about this topic by reading the Dear Doctor magazine article "Taking the Stress out of Dentistry for Kids."
By Benjamin T. Watson, DDS, MAGD
November 28, 2018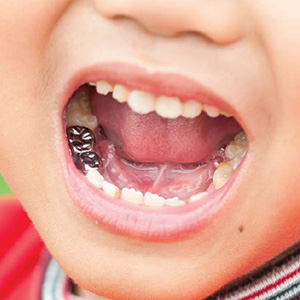 Although primary ("baby") teeth have a lifespan of only a few years, they're still important to a child's current and future dental health. In the present, they help a child eat, speak and smile properly. They also help create a healthy future as placeholders for developing permanent teeth yet to come in.
If, however, a child loses a primary tooth prematurely due to decay, the corresponding permanent tooth could come in misaligned. That's why we do what we can to help a decayed primary tooth reach its full lifespan. And there are different ways to do this depending on the type of tooth.
With front teeth, which don't encounter the same chewing forces as those in the back, we may use a tooth-colored filling. This approach is also preferable for appearance's sake since front teeth are highly visible when a child speaks or smiles.
Primary molars, on the other hand, need a more robust solution. A filling may not be able to withstand the level of long-term chewing forces that these back teeth normally encounter. And because they're less visible than front teeth, there's less concern about aesthetics.
That's why many pediatric dentists prefer stainless steel crowns for molars. Just like their permanent teeth counterparts, a primary crown fits over and completely covers a tooth. They're typically pre-formed, coming in different shapes and sizes that can then be customized for the tooth in question. After preparing and removing any decayed material from the tooth, we can usually install the crown in one visit with local anesthesia and a sedative (if the child needs it for anxiety).
While a steel crown isn't the most attractive restoration, it typically handles the higher chewing forces in the back of the mouth better and longer than a filling. That's especially critical for primary molars, which are some of the last teeth to fall out (as late as ages 10-12).  And besides preserving it as a permanent tooth placeholder, a crown also helps the tooth function effectively in the present.
Regardless of what method we use, though, preserving primary teeth is a primary goal of pediatric dentistry. And with a stainless steel crown, we can keep those important back molars functioning for as long as they're intended.
If you would like more information on caring for primary teeth, please contact us or schedule an appointment for a consultation. You can also learn more about this topic by reading the Dear Doctor magazine article "Stainless Steel Crowns for Kids."
By Benjamin T. Watson, DDS, MAGD
February 28, 2017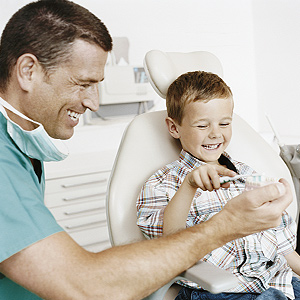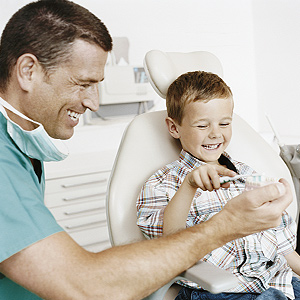 While the prevention and treatment of tooth decay has improved dramatically over the last half century, it continues to be a major health issue, especially for children. One in four children 5 and younger will develop some form of the disease.
Although tooth decay in children stems from the same causes as in adults — the presence of decay-causing bacteria in plaque, unprotected teeth and the right mix of carbohydrates like sugar left in the mouth — the means by which it occurs may be different. We even define tooth decay differently in children as Early Childhood Caries (ECC), "caries" the dental profession's term for tooth decay.
ECC highlights a number of cause factors specific to young children, such as: continuous use of a bottle or "sippy cup" filled with juice or other sweetened beverages; at-will breast-feeding throughout the night; use of a sweetened pacifier; or regular use of sugar-based oral medicine to treat chronic illness.
If you noticed sugar as a common denominator in these factors, you're right. As a primary food source for bacteria, refined sugar is a major trigger for the disease especially if it constantly resides in the mouth from constant snacking or sipping. In fact, it's the primary driver for a particular pattern of decay known as Baby Bottle Tooth Decay (BBTD). This pattern is specifically linked to sleep-time bottles filled with juice, milk, formula or other sweetened beverages, given to an infant or toddler to help soothe them through the night or during naps.
All these factors cause a cycle of decay. To interrupt that cycle, there are some things you as a parent should do: perform daily hygiene with your child to reduce decay-causing bacteria; reduce the amount and frequency of carbohydrates in the diet, particularly sugar; and protect the teeth by having us apply fluoride or sealants directly to the teeth.
Early tooth decay could affect your child's oral health for years to come. With a little care and vigilance, you improve your chances of avoiding that encounter.
If you would like more information on preventing tooth decay in children, please contact us or schedule an appointment for a consultation. You can also learn more about this topic by reading the Dear Doctor magazine article "Dentistry & Oral Health for Children."