Posts for: March, 2019
By Benjamin T. Watson, DDS, MAGD
March 18, 2019
At the first-ever Players Weekend in August 2017, Major League Baseball players wore jerseys with their nicknames on the back. One player — Cleveland Indians shortstop, Francisco Lindor — picked the perfect moniker to express his cheerful, fun-loving nature: "Mr. Smile." And Lindor gave fans plenty to smile about when he belted a 2-run homer into the stands while wearing his new jersey!
Lindor has explained that he believes smiling is an important part of connecting with fans and teammates alike: "I've never been a fan of the guy that makes a great play and then acts like he's done it 10,000 times — smile, man! We've got to enjoy the game."
We think Lindor is right: Smiling is a great way to generate good will. And it feels great too… as long as you have a smile that's healthy, and that looks as good as you want it to. But what if you don't? Here are some things we can do at the dental office to help you enjoy smiling again:
Routine Professional Cleanings & Exams. This is a great place to start on the road toward a healthy, beautiful smile. Even if you are conscientious about brushing and flossing at home, you won't be able to remove all of the disease-causing dental plaque that can hide beneath the gum line, especially if it has hardened into tartar, but we can do it easily in the office. Then, after a thorough dental exam, we can identify any problems that may be affecting your ability to smile freely, such as tooth decay, gum disease, or cosmetic dental issues.
Cosmetic Dental Treatments. If your oral health is good but your smile is not as bright as you'd like it to be, we can discuss a number of cosmetic dental treatments that can help. These range from conservative procedures such as professional teeth whitening and bonding to more dramatic procedures like porcelain veneers or crowns.
Tooth Replacement. Many people hide their smiles because they are embarrassed by a gap from a missing tooth. That's a shame, because there are several excellent tooth-replacement options in a variety of price ranges. These include partial and full dentures, bridgework, and dental implants. So don't let a missing tooth stop you from being Mr. (or Ms.) Smile!
If you'd like more information about oral health or cosmetic dentistry, please contact us or schedule an appointment for a consultation. You can also learn more by reading the Dear Doctor magazine articles "Beautiful Smiles by Design" and "The Impact of a Smile Makeover."
By Benjamin T. Watson, DDS, MAGD
March 08, 2019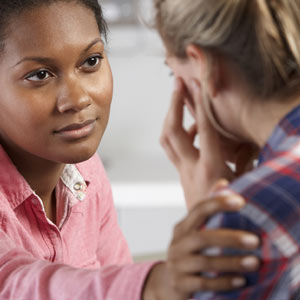 Waiting is part of life for a teenager: waiting to get a driver's license, to graduate high school or to leave home and stretch their wings. A teenager with lost teeth may also need to wait until they're older to obtain dental implants.
The reason arises from the differences in how implants and natural teeth attach to the jaw. Although natural teeth may seem rigidly set in the bone, they're actually held in place by an elastic tissue between them and the bone known as the periodontal ligament. Tiny filaments that attach to the teeth on one side and the bone on the other hold the teeth in place, but also allow the teeth to move gradually in response to mouth changes.
A titanium implant post doesn't have this relationship with the periodontal ligament — it's attached directly to the jaw bone. Over time the bone, which has a special affinity with titanium, grows and adheres to it to form a durable bond without an attachment to the periodontal ligament. Because of this the implant can't move like a natural tooth.
This is extremely important for implant placement because the jaws in particular won't fully develop in most people until their late teens or early twenties: the upper jaw in particular will tend to grow out and down. Natural teeth accommodate to these changes, but the implant can't — it will appear to retreat into the jaw. The gum tissues surrounding the implant also won't conform to the continuing growth and may appear receded.
The best approach is to choose a temporary replacement option until the jaws and other facial bone structures have finished growing. One example is a bonded bridge in which we use a bonding agent to attach a bridge of artificial teeth to teeth on either side of a missing tooth — bonding won't permanently alter them as with a traditional bridge. Once the jaws have finished growing, we can remove the bonded bridge and install the more permanent implant.
Ask any teenager: waiting can be hard. But with dental implants, waiting until the right time will help ensure the attractive result is a permanent one.
If you would like more information on dental restorations and teenagers, please contact us or schedule an appointment for a consultation. You can also learn more about this topic by reading the Dear Doctor magazine article "Teenagers & Dental Implants."